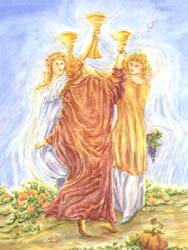 Aquatic Tarot
Three of Cups (Abundance)
Maidens in a garden-ground with cups uplifted, as if pledging one another.

The Aquatic Tarot is a modern watercolor interpretation of the classic Rider Waite symbolism. It is rapidly becoming one of the most popular decks, due to both its spectacular beauty and its traditional imagery.