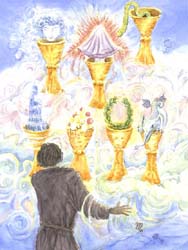 Aquatic Tarot
Seven of Cups (Temptation)
Strange chalices of vision, but the images are more especially those of the fantastic spirit.

The Aquatic Tarot is a modern watercolor interpretation of the classic Rider Waite symbolism. It is rapidly becoming one of the most popular decks, due to both its spectacular beauty and its traditional imagery.