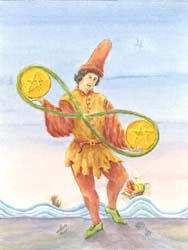 Aquatic Tarot
Two of Pentacles (Change)
A young man, in the act of dancing, has a pentacle in either hand, and they are joined by that endless cord which is like the symbol for infinity or the number 8 turned on its side.

The Aquatic Tarot is a modern watercolor interpretation of the classic Rider Waite symbolism. It is rapidly becoming one of the most popular decks, due to both its spectacular beauty and its traditional imagery.