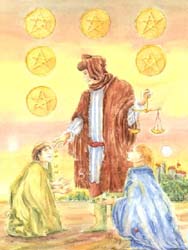 Aquatic Tarot
Six of Pentacles (Success)
A person in the guise of a merchant weighs money in a pair of scales and distributes it to the needy and distressed. It is a testimony to his own success in life, as well as to his goodness of heart.

The Aquatic Tarot is a modern watercolor interpretation of the classic Rider Waite symbolism. It is rapidly becoming one of the most popular decks, due to both its spectacular beauty and its traditional imagery.