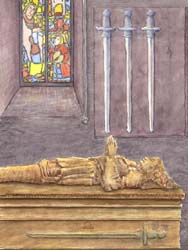 Aquatic Tarot
Four of Swords (Truce)
The effigy of a knight in the attitude of prayer, at full length upon his tomb.

The Aquatic Tarot is a modern watercolor interpretation of the classic Rider Waite symbolism. It is rapidly becoming one of the most popular decks, due to both its spectacular beauty and its traditional imagery.