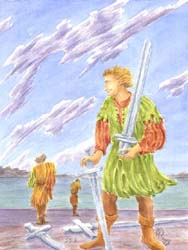 Aquatic Tarot
Five of Swords (Defeat)
A disdainful man looks after two retreating and dejected figures. Their swords lie upon the ground. He carries two others on his left shoulder, and a third sword is in his right hand, point to earth. He is the master in possession of the field.

The Aquatic Tarot is a modern watercolor interpretation of the classic Rider Waite symbolism. It is rapidly becoming one of the most popular decks, due to both its spectacular beauty and its traditional imagery.