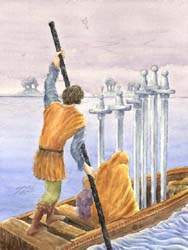 Aquatic Tarot
Six of Swords (Science)
A ferryman carrying passengers in his punt to the further shore. The course is smooth, and seeing that the freight is light, it may be noted that the work is not beyond his strength.

The Aquatic Tarot is a modern watercolor interpretation of the classic Rider Waite symbolism. It is rapidly becoming one of the most popular decks, due to both its spectacular beauty and its traditional imagery.