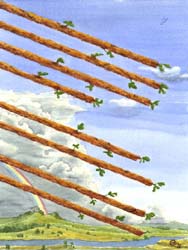 Aquatic Tarot
Eight of Wands (Swiftness)
The card represents motion through the immovable-a flight of wands through an open country; but they draw to the term of their course. That which they signify is at hand; it may be even on the threshold.

The Aquatic Tarot is a modern watercolor interpretation of the classic Rider Waite symbolism. It is rapidly becoming one of the most popular decks, due to both its spectacular beauty and its traditional imagery.