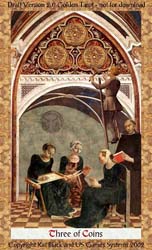 Golden Tarot
Three of Coins (Works)
A workman on a ladder hammers one of three coins that decorate the ornate ceiling of a church nave. Three women are seated, working on needlepoint. A monk watches over them as they work.

The Golden Tarot is a modern celebration of late medieval artwork. This deck is the choice of scholars, for it evokes images of elegance amid barbarism, and the light of virtue in dark times. If you would like your own copy of the Golden Tarot, you can buy it now!