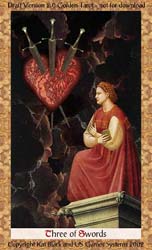 Golden Tarot
Three of Swords (Sorrow)
A woman kneels with her arms crossed on a plinth decorated by gargoyles. She looks grief-stricken, and holds a small book. In the dark stormy sky above her floats a large brocade heart pierced by three swords.

The Golden Tarot is a modern celebration of late medieval artwork. This deck is the choice of scholars, for it evokes images of elegance amid barbarism, and the light of virtue in dark times. If you would like your own copy of the Golden Tarot, you can buy it now!