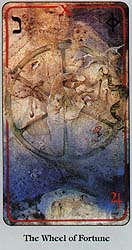 Haindl Tarot
The Wheel of Fortune
The Symbols

Kaph, palm; Jara or Ger, J, year; Jupiter.

The Image

The Wheel is set against a field of stars symbolizing the cosmos. Below, looking upward, is the Mother, the Earth. At the upper left is the Sky Father, Zeus. At the upper right is an androgynous child. The child, with its wizened face, represents humanity and our ancestors. Inside the Wheel, the mushrooms symbolize luck, the snake, rebirth, the eye, time, the dinosaur, all things lost in the tuning of time.
The Haindl Tarot weaves a tapestry of haunting beauty from the traditions of Native America, the Holy Grail, the I Ching, Kabbalah and the Norse Runes, and is the deck of choice for mystics and those seeking enlightenment. If you would like your own copy of the Haindl Tarot, you can buy it now!