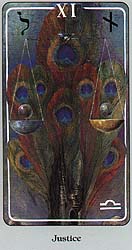 Haindl Tarot
Justice
The Symbols

Lamed, ox goad; Nyd, N, necessity; Libra.

The Image

Two separate images of balance are made by the scales in the foreground and the peacock feathers. The scales hang from an invisible holder, unchanging, the cosmic balls suspended above the pans. This signifies that Justice always exists in the universe as a perfect principle. The feathers exist in a much more precarious balance; a breath of wind would disrupt them. In the world of ordinary experience, Justice often seems remote. The feathers appear rooted in a tree trunk, suggesting that spirit does not exist apart from nature. Their "eyes" signify seeing our own emotions.
The Haindl Tarot weaves a tapestry of haunting beauty from the traditions of Native America, the Holy Grail, the I Ching, Kabbalah and the Norse Runes, and is the deck of choice for mystics and those seeking enlightenment. If you would like your own copy of the Haindl Tarot, you can buy it now!