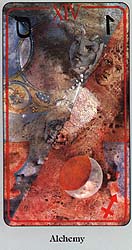 Haindl Tarot
Alchemy
The Symbols

Samekh, tent peg; Laguz, L, water; Sagittarius.

The Image

The diagonal divides the card between blue and red, water and fire. The Grail appears twice, red in the blue half and blue in the red half, providing an interchange of energy. The two cups come from the traditional image of the card as Temperance. On the right, a circle contains the sun and the moon. The red background is pitted rock, a symbol of age. The blue side is ageless light, a quality of spirit. A devil face inhabits the cloud, signifying sexual life energy. On the other side is her reflection, an angel. Below the angel and the devil is a clown and a skull, life and death.
The Haindl Tarot weaves a tapestry of haunting beauty from the traditions of Native America, the Holy Grail, the I Ching, Kabbalah and the Norse Runes, and is the deck of choice for mystics and those seeking enlightenment. If you would like your own copy of the Haindl Tarot, you can buy it now!