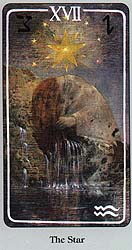 Haindl Tarot
The Star
The Symbols

Tzaddi, fish hook; Eh, E, horse; Aquarius.

The Image

A woman is at the bottom of a bare rocky hill where a stream of water splashes into a pool. She is washing her hair, an act of unity with the Earth. Her hair blends in with the water. Her dress suggests age. She is Gaia, the Mother of Life. No flowers or trees grow, there are only water and rock, Earth's oldest forms. Above her is a cluster of stars, seven small ones and one large double star.
The Haindl Tarot weaves a tapestry of haunting beauty from the traditions of Native America, the Holy Grail, the I Ching, Kabbalah and the Norse Runes, and is the deck of choice for mystics and those seeking enlightenment. If you would like your own copy of the Haindl Tarot, you can buy it now!