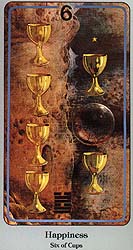 Haindl Tarot
Six of Cups (Happiness)
I Ching Hexagram 58 The Joyous Lake. The column is part of a temple. The bubble is tinted red, for life energy. A five pointed star indicates the presence of the Goddess, in her wisdom, power and protection. The four cups on the left stand for law, the two on the right for love.

The Haindl Tarot weaves a tapestry of haunting beauty from the traditions of Native America, the Holy Grail, the I Ching, Kabbalah and the Norse Runes, and is the deck of choice for mystics and those seeking enlightenment. If you would like your own copy of the Haindl Tarot, you can buy it now!