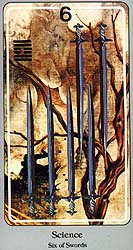 Haindl Tarot
Six of Swords (Science)
I Ching Hexagram 61 Inner Truth. A hand reaches toward a leafless branch, part of a vineyard. Traces of green show that the technology can bring new life to deserts. However, darkness beneath hints of something torn or broken.

The Haindl Tarot weaves a tapestry of haunting beauty from the traditions of Native America, the Holy Grail, the I Ching, Kabbalah and the Norse Runes, and is the deck of choice for mystics and those seeking enlightenment. If you would like your own copy of the Haindl Tarot, you can buy it now!